Our Partners
With our partner Hewlett Renewables we are able to offer complete peace of mind. All installations are MCS accredited so that you can receive income from the Government's Feed-in tariff. The installation will be carried out to Hewlett's high standard and then maintained on a regular basis to ensure the turbine produces optimal energy yield, year after year.

Our installation and maintenance partner: Hewlett Renewables
"This innovative alliance with Sykamore brings vast experience in the wind energy sector to our engineering and construction pedigree. Together we will offer a sustainable, cost effective supply chain from the design stage through to installation. Although we have worked with clients in the renewable energy market for several years we feel the time is now right to expand our service offering by launching our dedicated renewable division and taking advantage of our strong relationships, knowledge and experience in this sector.
There has been a great deal of debate in the industry about how skills can be transferred to the renewable sector and we are in no doubt that our civil engineering experience can be used to benefit such clients"
Alan Cooper - Managing Director,
Hewlett Civil Engineering
In response to growing demand for its specialist services, leading civil engineering company Hewlett has launched a dedicated division targeting the renewable energy sector.
Hewlett Renewables will provide civil engineering and construction services to support developments in the UK's renewables industry. Hewlett is already involved in a range of renewable energy projects including a major scheme on behalf of SSE (Scottish and Southern Energy) providing modifications and improvements to existing roads at some 350 locations between Inverness and Falkirk needed to allow access for the construction of the new 400kV line which is a significant grid infrastructure upgrade.
The launch of Hewlett Renewables also coincides with an alliance with Sykamore Small Wind Ltd, a company dedicated to optimising small-wind generation projects through expert site design and turbine selection. Working with established partners such as Hewlett, Sykamore offers a complete package for landowners wishing to reap the benefits of small-wind including zero-capital options for those looking to lower their energy bills without having to invest.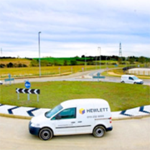 Hewlett brings years of experience in turn-key civil engineering projects to provide practical and effective solutions to renewable energy projects covering all aspects of site preparation and installation, as well as tailored training and maintenance packages.
Alongside SSW, Hewlett exhibited at this year's International Small Wind conference and will be attending and exhibiting the RenewableUK 2011 Annual Conference in Manchester later this year.
Hewlett has its company headquarters in Leeds and employs over 600 people in the UK including in offices in Perth, Scotland and Leamington Spa, Warwickshire. The Company puts a strong emphasis on training and has two purpose built training centres based at Cross Green in Leeds and i54 in Wolverhampton providing an extensive range of training programmes covering a wide spectrum of disciplines from telescopic fork-lift training, to safety and managerial courses. It anticipates that the renewable energy sector will account for an increasingly significant part of its business.
For more information on Hewlett Renewables click here. http://www.hewlett.co.uk